Tasmanian National 2006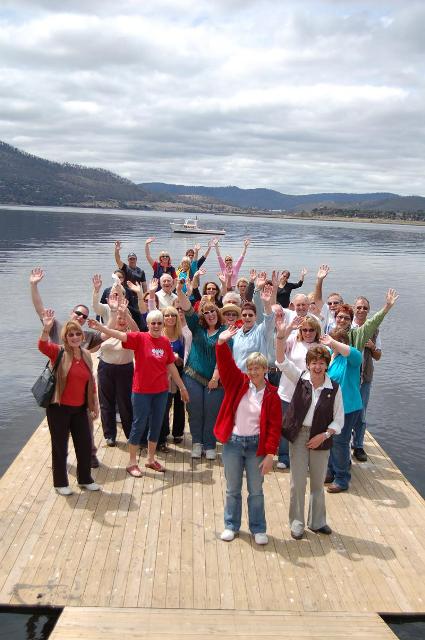 The TGRC inc would like to thank all the exhibitors and spectators who made the trip to Tassie to support our National Show. We hope you enjoyed yourselves as much as we did!
Thank you to Mr and Mrs Mills and Mr Philpott for their lovely ring manner and for making themselves so approachable and available to all the exhibitors at the conclusion of judging and at our "Recovery BBQ"!
Thank you to all the Clubs, businesses and individuals who donated products, money or time to the successful running of our National. We couldn't have done it without you!!
The TGRC Committee
National Results
National Photos available – www.cabalcaninecandids.com
Dog Judging – Sat 18th Nov 2006
Judge: Mrs Barbara Mills
Baby Puppy Dog – 3/1 Absent
1. Goldfleece Tobys Oats (AI) – Miss E. A. Smith (BEST BABY IN SHOW)
S. Eng Sh Ch Stanrolph So It Had To Be
D. Ch Goldfleece Time To Spare
Br: Exh
2. Baradav Flying Solo – Mr D & Mrs B Joseph
S. Ch Tulzean Autumn Tango
D. Baradav Hot Gossip
Br: Exh
3. Goldshyne The President – Goldshyne Kennels
S. Ch Golden Rose-Bays Drummerboy (Imp Belg)
D. Goldshyne Silhouette
Br: Exh
Minor Puppy Dog – 3/3 Absent
Puppy Dog – 6/1 Absent
1. Clanaran Im Hot N UR Not – Trudi Counsell (OPPOSITE PUPPY IN SHOW)
S. Ch Tulzean Autumn Tango
D. Ch Kaparla Rumour N Innuendo
Br: Exh
2. Kaparla Its Raining Men – Mrs J Jeffrey
S. Ch Golden Rose- Bays Drummer Boy (Imp Bel)
D. Chaleur Glamour Puss
Br: Heather Morrison
3. Yellowfetch Adams Apple – C & K Lynch
S. Avonbreeze Heedless (AI)
D. Ch Yellowfetch Nice As Pie
Br: Exh
4. Swiftreve Snow and Ice – Mrs J Brown
S. Stenbury Water Snowman (Imp Swed)
D. Ch Willowlawn The Ice Maiden (Imp UK)
Br: Exh
5. Kaparla Backstreet Boys – Miss Natasha Leppard
Bred as #2
Junior Dog – 8/ 2 Absent
1. Trigolden Power O Dreams – Claire Jestrimski (BEST JUNIOR IN SHOW)
S. Ch Tulzean Autumn Tango
D. Ch Goldog Alpine Hylandmist
Br: Lorraine Harrowfield
2. Baradav Goinplaces – Mr D & Mrs B Joseph
S. Ch Chaleur Art On The Move
D: Ch Elbadari Freij Zandra
Br: Exh
3. Fetchnpoint Knee Jerker – Miss S Stephens
S. Ch Fantango Chasing Dreams
D. Ch Yellowfetch Ding Dong
Br: C & K Lynch, Miss S Stephens
4. Dunfriar Hyland Lad – B & S Courtney
S. Ch Ashiya Diplomatic Fellow
D. Ch Toriade Timsbury
Br: Exh
5. Ch Trigolden Luv To Tango – Lorraine Harrowfield
S. Ch Tulzean Autumn Tango
D. Ch Goldog Alpine Hylandmist
Br: Exh
6. Neikaglen Jazz Singer – Mrs Beth Best
S. Ch Golden Rose-Bays Drummerboy (Imp Bel)
D. Neikaglen Moet Chandon
Br: Exh
Intermediate Dog – 17/3 Absent
1. Ch Goldfleece Knock On Wood – Miss E Smith & Ms E Clark (OPPOSITE BEST INTERMEDIATE IN SHOW)
S. Eng Sh Ch Stanrolph Endelwood Nicholas
D. Ch Goldfleece Muscatel
Br: Miss E Smith
2. Alnclair Gillys Hero – W & S McGrath
S. Dobro Diamond Edge
D. Alnclair Lady Elizabeth
Br: Exh
3. Ralun Versace – R M Pierce
S. Ch Goldtreve Camrose Kraka
D. Ch Ralun Paradisio
Br: Exh
4. Melvonroy Simply Liam – Mrs P Middleton
S. Rossbourne Celebrity ( Imp UK)
D. Ch Culdera Cedar Brook
Br: Mrs J Y Dunn
5. Perrecca Unprecedented – Mr & Mrs D Patterson
S. Aus & NZ Ch Dykinta Grand Slam
D. Ch Perrecca Inspiration
Br: Mrs C Perry
6. Salamyst Hurricane – Mrs Suzi Ellard
S. Ch Kaparla Stand N Deliver
D. Ch Veroushka Mystical Magic
Br: Exh
Ausbred Dog – 15/0 Absent
1. Ch Fernfall Aramis Gold – Shane Addison (BEST AUSBRED IN SHOW)
S. Ch Tulzean Autumn Tango
D. Ch Fernfall Watermark
Br: Jane Fall
2. Aus Gr & NZ Ch Yellowfetch As You Do – C & K Lynch
S. Ch Standfast Dream Ticket From Kerrien (Imp UK)
D. Ch Yellowfetch Liberty Lass
Br: Exh
3. Giltedge Blackwatch – S & K Handley
S. Ch Standfast Dream Ticket From Kerrien ( Imp UK)
D. Yellowfetch Pixie Dust
Br: Exh
4. Ch Conarhu Gonwith The Wind – Ms R Connah
S. Aus & Eng Ch Stanroph Shogun (Imp UK)
D. Ribbonwood Stage Hit
Br: Exh
5. Ch Ambermist Grand Design – Parkridge Kennels
S. Aus & Eng Sh Ch Stanroph Shogun (Imp UK)
D. Ch Ambermist Im Iresistable
Br: Mrs D Turner
6. Ch Swiftreve Drovers Run – Mrs J Brown
S. Gr Ch Buffalo Bel Ayre Prince
D. Ch Willowlawn Brocade (Imp UK)
Br: Exh
Open Dog – 9/0 Absent
1. Gr Ch Yellowfetch As You Will – Miss S Stephens (OPPOSITE OPEN IN SHOW)
S. Aus Gr Ch & NZ Ch Yellowfetch As You Do
D. Ch Yellowfetch Go Girl
Br: Mr C & Mrs K Lynch
2. Ch Chaleur Code Ov Silence – Mrs R Thompson
S. Gr Ch Chaleur Acclaim To Fame
D. Ch Giltedge Florida Storm
Br: Exh
3. Gr Ch Taumac Court Jester (AI) – Taumac Kennels
S. Glennessa Playboy (Imp UK)
D. Ch Taumac Gold For Riley
Br: Exh
4. Gr Ch Winterlea Son Of A Kiwi ET (Imp NZ) – Miss Melanie Rennie
S. Stanroph Super Scott (Imp UK)
D. NZ Ch Winterlea Wink N Blink
Br: M A Saunders
5. Ch Dobro Samurai Guy – L Molnar
S. Aus & Eng Ch Stanroph Shogun (Imp UK)
D. Ch Jonesh Emily Bronte
Br: Exh
6. Ch Tulzean Autumn Tango – Jane Fall
S. Aus & Eng Ch Stanroph Shogun (Imp UK)
D. Strathraer Arctic Skye
Br: Carol Stafford
Veteran Dog – 6/1 Absent
1. Gr Ch Goldog Alpine Highland – Lorraine Harrowfield (BEST VETERAN IN SHOW)
S. Ch Perecca Dorcheser
D. Ch Goldog Alpine Storm
Br: P Collman
2. Ch Kaparla Its Supernatural – Trudi Counsell
S. Kaparla Standing Ovation
D. Aus & NZ Ch Kaparla Aran Moonmyth (IID NZ)
Br: Mrs H Morrison
3. Gr Ch Beaucroft The Cadet – Beaucroft Kennels/ J & D Wadsley
S. Camrose Ilex Layanda (Imp UK)
D. Ch Beaucroft By Design
Br: Exh
4. Ch Ralun Gogetter CD JD AD TDX ET – Mr P & Mrs V Hofto
S. Ralun Drastic Action
D. Ralun Vanity Fair
Br: Mrs R Pierce
5. Ch Alnclair Ben Nevis – W & S McGrath
S. Ch Alnclair Olympic Gym (AI)
D. Ch Tapiar Dusky Gleam
Br: Exh
Dog Challenge And RUNNER UP IN SHOW – Ch Fernfall Aramis Gold – Shane Addison
Reserve Dog Challenge – Gr Ch Goldog Alpine Highland – Mrs L Harrowfield
Bitches – Sunday 19th Nov 2006
Judge: Mr Peter Mills
Baby Puppy Bitch 6/0 absent
1. Baradav Framed In Gold – Mr & Mrs B Joseph (OPPOSITE BEST BABY PUPPY IN SHOW)
S. Ch Tulzean Autumn Tango
D. Baradav Hot Gossip
Br: Exh
2. Giltedge Amelie – S & K Handley
S. Dewmist Silversong (Imp Swe)
D. Giltedge Poetry In Motion
Br: Exh
3. Parkridge Centrefold – Parkridge Kennels
S. Perrecca Unprecedented
D. Parkridge Brash N Sassy
Br: Exh
4. Dehorsley Morning Song – Jane Fall
S. Ch Tulzean Autumn Tango
D. Fernfall Celebration
Br: Rev Philip Gambin
5. Goldfleece Frozen Intime (AI) – A Smith & Ashiya Kennels
S. Eng Sh Ch Stanroph So It Had To Be
D. Ch Goldfleece Time To Spare
Br: A Smith
6. Goldshyne The First Lady – Goldshyne Kennels
S. Ch Golden Rose-Bays Drummerboy (Imp Bel)
D. Goldshyne Silhouette
Br: Exh
Minor Puppy Bitch – 7/ 0 Absent
1. Goldlake Summer Breeze – Jan Grierson (BEST MINOR PUPPY IN SHOW)
S. Ch Tulzean Autumn Tango
D. Ch Kaparla Such Is Life
Br: Exh
2. Xanthos Are You Talking To Me (Imp UK) – Mrs H Morrison
S. Dutch, Jun. German Ch Team Spirit of Glen Sheallag
D. German Ch Xanthos Lah Di Dah
Br: Mrs H Morss
3. Naragold Hill Of Grace (AI) – Ms Lesley List
S. Eng Sh Ch Stanroph So It Had To Be
D. Ch Goldfleece Muscatel
Br: Emma Clark
4. Naragold Petaluma – Ms E Clark
As # 3
5. Fetchnpoint A World Apart – Miss S Stephens
S. Ch Phileni Phoenix Rising
D. Ch Yellowfetch World Vision
Br: Exh
6. Santamaria Live Coverage – Ms D J Lee, P J & S J Lee-Hartford
S. Ch Santamaria Judgement Day
D. Ch Santamaria StrengthNHonor
Br: Exh
Puppy Bitch – 8 / 2 Absent
1. Beaucroft Sorrento Sun – Beaucroft Knls & J & D Wadsley (BEST PUPPY IN SHOW)
S. Ch Standfast Dream Ticket From Kerrien (Imp UK)
D. Taumac Golden Crystal (AI)
Br: Beaucroft Kennels
2. Iamgoldn Eternal Flame – Carol & Ian Ainsworth
S. Russdock Arlol
D. Pelliken Loveme Do
Br: Exh
3. Kaparla Guilty As Charged – Mrs H Morrison
S. Ch Kaparla Stand N Deliver
D. Buffalo Stenbury's Frolic
Br: Exh
4. Goannagold Spice Girl – Miss E Smith
S. Ch Goldfleece Knock On Wood (AI)
D. Goldfleece Out Of The Blue
Br: Miss R Fapani
5. Kaparla Legal Eagle – Parkridge Kennels
Bred as # 3
6. Kaparla Objectn Overuled – Mrs Alison Watson
Bred as # 3
Junior Bitch – 11/1 Absent
1. Ch Yellowfetch Whatz It To U – S Stephens (OPPOSITE JUNIOR IN SHOW)
S. Dewmist Silversong (Imp Swe)
D. Yellowfetch Whatz Up
Br: Mr C & Mrs K Lynch
2. Yellowfetch What Next – Mr C & Mrs K Lynch
Bred as # 1
3. Dalvuigold Miss Millie – Mrs Wendy Duynhoven
S. Trigolden Heza Monty
D. Ch Goldog Alpine Truly Missy
Br: Exh
4. Santamaria Blaze Of Glory – Ms D Lee, P & J Lee-Hartford
S. Ch Lynika Bound For Glory
D. Ch Santamaria StrengthNHonr
Br: Exh
5. Goldfleece Just Timeless – Ms Lesley List
S. Ch Stanroph Shared Assets (Imp UK)
D. Ch Goldfleece Time To Spare
Br: Miss E Smith
6. Blazedngold SG Atlantis – L J Binns
S. Ch Golden Rose-Bays Drummerboy (Imp Bel)
D. Blazedngold Illuminate
Br: Exh
Intermediate Bitch 14/2 Absent
1. Ch Giltedge Angel Dust – Mrs D Petterwood (BEST INTERMEDIATE IN SHOW)
S. Ch Standfast Dream Ticket From Kerrien (Imp UK)
D. Ch Yellowfetch Pixie Dust
Br: S & K Handley
2. Ch Rustledene Hot Gossip (AI) (Imp NZ) – RJ & J Champlin
S. Rossbourne Quest (UK)
D. Rustledene Camena
Br: Mrs E M Russell
3. Swiftreve Celebration – Mrs J Bliss
S. Ch Goldtreve Camrose Kraka
D. Ch Willowlawn Brocade (Imp UK)
Br: Mrs J Brown
4. Dobro Fire Crystal – Mrs L Molnar
S. Xanthos Fletcher Christian (Imp UK)
D. Ch Dobro Eternal Flame (AI)
Br: Exh
5. Wyandra Sweet As Candy – Robyn Hillyer
S. Ch Goldog Alpine Hylandlord
D. Ch Wyandra Heart Breaker
Br: Exh
6. Ch Goldog Alpine Sweetsue – Mr M Brady
S. Ch Lionsfield Lord Selywin
D. Ch Goldog Alpine Dancer
Br: Mrs P Colman
Australian Bred Bitch - 15/0 Absent
1. Ch Kaparla Such Is Life – Jan Grierson (OPPOSITE BEST AUSBRED IN SHOW)
S. Aus & NZ Ch Kaparla Loch Invar (Imp UK)
D: Ch Kaparla Just An Illusion
Br: Mrs H Morrison
2. Ch Willowbrook Hot Tamarli – Deb Turner
S. Ch Ambermist Full Impact CD
D. Alderhaus Gold Tulip
Br: Mrs L Reid
3. Ch Toriade Timsbury – B & S Courtney
S. Aus & Eng Ch Stanroph School Boy ( Imp UK)
D. Ch Toriade Tienmouth
Br: Dr J Oakes
4. Ch Blazedngold Inocent Eyes – L J Binns
S. Ch Tulzean Autumn Tango
D. Deshavou Loch Alish
Br: Exh
5. Conarhu Spirit In The Sky – Ms R Connah
S. Gr Ch Chaleur Acclaim To Fame
D. Ribbonwood Stage Hit
Br: Exh
6. Ch Dobro Diamond Magic – Mrs L Molnar
S. Dobro Diamond Edge (AI)
D. Dobro Minthe
Br: Exh
Open Bitch – 12/0 Absent
1. Ch Ambermist Grace Inmotion – Deb Turner (BEST OPEN IN SHOW)
S. Aus & Eng Ch Stanroph Shogun (Imp UK)
D. Ch Ambermist Im Iresistable
Br: Exh
2. Ch Goldfleece Pie In The Sky – Miss E Smith
S. Alibren Son Of A Gun (Imp UK)
D. Stanroph Soloflight (Imp UK)
Br: Miss K Keily & Miss E Smith
3. Ch Taumac Playgirls Gold (AI) – Taumac Kennels
S. Glennessa Playboy (Imp UK)
D. Ch Taumac Gold For Riley
Br: Exh
4. Ch Kaparla Rumour N Innuendo – Trudi Counsell
S. Ch Kaparla Bandmaster (IID NZ)
D. Ch Kaparla Loch Isle
Br: Mrs H Morrison
5. Gr Ch Chaleur Unforgetable – Mrs R Thompson
S. Gr Ch Chaleur Acclaim To Fame
D. Ch Kaparla Loch Isle
Br: Exh
6. Boolaroo Lois Lane – Ann Wallis
S. Goldfleece Winchester
D. Boolaroo Madam Butterfly
Br Exh
Veteran Bitch – 8 / 4 Absent
1. Tulzean Norwegian Wood – Carol Stafford (OPPOSITE BEST VETERAN IN SHOW)
S. Ch Sandusky Klammer (Imp Swe) CDX
D. Strathraer Arctic Skye (IID)
Br: Exh
2. Gr Ch Alnclair Maggie May – W & S McGrath
S. Gr Ch Deanchel Love Me Tender
D. Ch Taplar Dusky Gleam
Br: Exh
3. Gr Ch Goldog Alpine Gabriella – Ann Wallis
S. Gr Ch Deanchel Love Me Tender
D. Ch Goldog Alpine Chelsea
Br: Mrs P Collman
4. Ch Kaparla Just An Illusion – Mrs H Morrison
S. Kaparla Standing Ovation
D. Aus & NZ Ch Kaparla Aran Moonmyth (IID NZ)
Br: Exh
Bitch Challenge and BEST IN SHOW – Ch Ambermist Grace In Motion – Deb Turner
Reserve Challenge Bitch – Ch Giltedge Angel Dust – Mrs D Petterwood